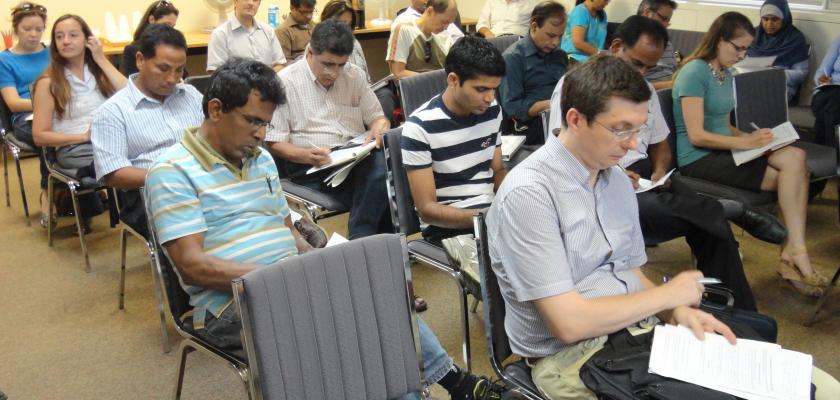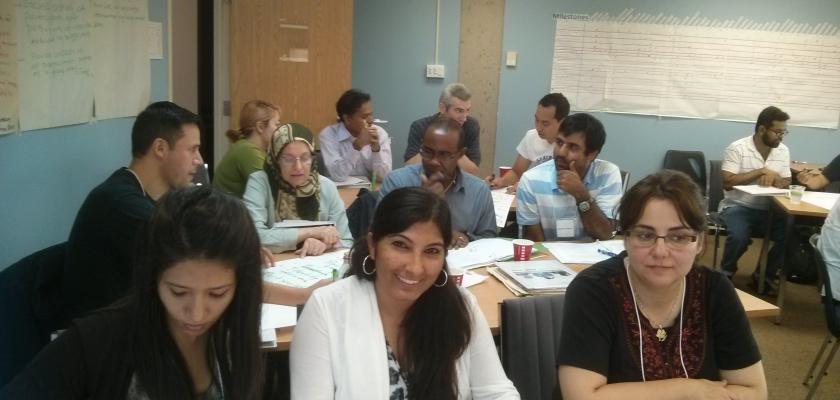 Connect with PAIE!
Connect with us on LinkedIn, Facebook and Twitter to receive program updates, gain access to effective resources, and receive important notifications regarding program developments, training opportunities, and networking events! Please click here for detailed instructions for how to get involved.
For all recent webinars and training sessions, please check our Vimeo Channel.
Videos
Check out these PAIE videos:
Taking Initiative at Work
You're Hired. Now What?
Effective Communication in Tough Situations
PAIE and Ontario Bridge Training Announcement
Mentor Talks: Dilnesaw Chekol
PAIE Program 2014-2015: A Year in Review
Success Stories
Aida is an environmental engineer with over 8 years of experience working in environmental consulting in Iran. She immigrated to Canada with her husband in August 2014, with hopes to continue her career in Toronto by working in a governmental agency. Although Aida had extensive technical knowledge and experience, she required assistance in accessing her professional field in Ontario, networking with employers, and transferring her knowledge into a Canadian context. In April 2015, Aida began volunteering as a Waste Management intern with the Toronto Transit Commission and later joined the TRCA PAIE Program to enhance her professional job search skills. As a PAIE participant, Aida learned about various internship opportunities for newcomers in the provincial government. PAIE staff provided Aida with individualized coaching supports tailored to her specific needs and goals of working in the public sector. After months of hard work, Aida was offered a full-time, 6-month contract as a Change Management Intern with the Ministry of Environment and Climate Change (MOECC). After receiving this initial opportunity, Aida continued to receive job search and retention support from PAIE staff and applied to internal positions within the MOECC. In early May 2016, she was the successful candidate for an internal full-time position as a Divisional Program Specialist within the Operations Integration Branch of the MOECC.
Harpreet had a fruitful career as a GIS Engineer in India. With over 5 years of professional experience and two Master's Degrees in GIS Technology and Geography, Harpreet aimed to utilize his skills and knowledge in a Canadian setting. In January 2015, he immigrated to Canada with his young family of three with the hopes of continuing his professional career in the GIS sector. After undergoing the settlement process, Harpreet started working a survival job in March 2015, at a local plastic parts production company. He joined the TRCA PAIE Program in the fall of 2015 with the hope of obtaining an employment opportunity in his field, and decided to quit his survival job to focus on full-time professional job search. While in the program, Harpreet received extensive job search training and interview coaching from PAIE staff, as well as valuable mentoring support and advice from subject experts in TRCA's internal GIS department. After months of hard work, Harpreet was the successful candidate in a rigorous 3-stage interview process with GIS industry leader – RMSI Canada. In May 2016, he was offered a full-time, 1 year contract position as a GIS Engineer. Harpreet is thriving in his new role, and continues to receive retention support from PAIE staff.
Participant feedback on their experience in the PAIE Program:
"I greatly benefited from the PAIE Program, and I am thankful to the team, especially to my PAIE Coordinator. The assistance that I got was prompt and effectively targeted to my needs and situation. As a result, I quickly secured a job in the area of my profession. The program helped me improve my job searching skills, better understand Canadian environmental sector expectations from the newcomers, and strengthened my communication skills. I closely worked with my coordinator during my selection process for the position where I am working now, and her involvement and professional help throughout the process made a huge positive difference." - Bakhtyor, PAIE Participant, 2014
"Having a full time job, job seeking was a complicated process for me with so many different tools and approaches. I have worked very hard and tried so many tools for finding an appropriate opportunity in my field as an international trained professional. Participating in the PAIE Program was one of the most powerful tools. During the Job Search training, I learned a lot about key points for a successful job search and when I received a call for an interview with AECON Group, my PAIE Coordinator helped me a lot by providing me with a practice interview and giving valuable advice. Having participated in the professional workshops conducted by PAIE staff, I have found them to be very useful as well." - Nadia, PAIE Participant, 2014
Helpful Links:
The Ontario Society of Professional Engineers (OSPE) has developed the following series of videos to assist international engineering graduates who are looking to get hired by engineering companies in Ontario.
https://www.ospe.on.ca/ite-video-series