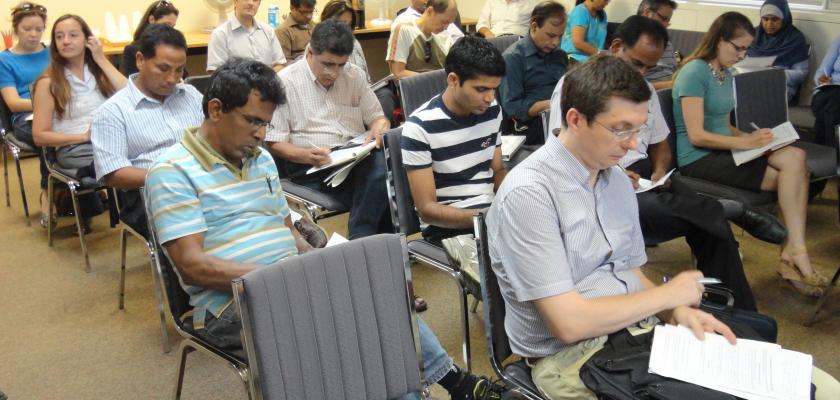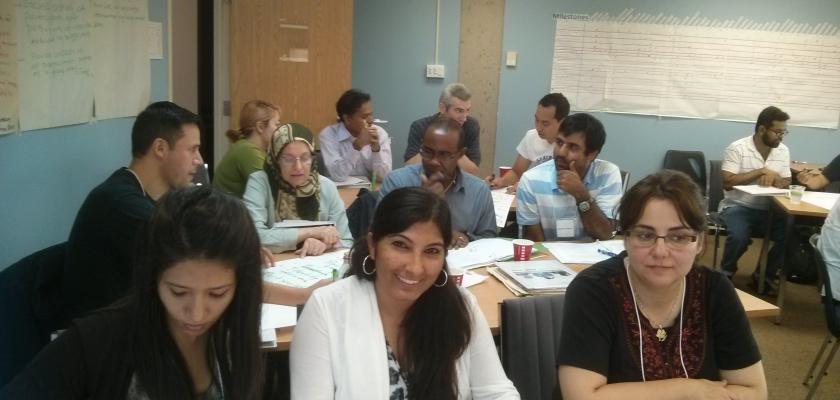 Connect with PAIE!
Connect with us on LinkedIn and Twitter to receive program updates, gain access to effective resources, and receive important notifications regarding program developments, training opportunities, and networking events!
Videos
Check out these PAIE videos:
Success Stories
Aida is an environmental engineer with over 8 years of experience working in environmental consulting in Iran. She immigrated to Canada with her husband in August 2014, with hopes to continue her career in Toronto by working in a governmental agency. Although Aida had extensive technical knowledge and experience, she required assistance in accessing her professional field in Ontario, networking with employers, and transferring her knowledge into a Canadian context. In April 2015, Aida began volunteering as a Waste Management intern with the Toronto Transit Commission and later joined the TRCA PAIE Program to enhance her professional job search skills. As a PAIE participant, Aida learned about various internship opportunities for newcomers in the provincial government. PAIE staff provided Aida with individualized coaching supports tailored to her specific needs and goals of working in the public sector. After months of hard work, Aida was offered a full-time, 6-month contract as a Change Management Intern with the Ministry of Environment and Climate Change (MOECC). After receiving this initial opportunity, Aida continued to receive job search and retention support from PAIE staff and applied to internal positions within the MOECC. In early May 2016, she was the successful candidate for an internal full-time position as a Divisional Program Specialist within the Operations Integration Branch of the MOECC.
Harpreet had a fruitful career as a GIS Engineer in India. With over 5 years of professional experience and two Master's Degrees in GIS Technology and Geography, Harpreet aimed to utilize his skills and knowledge in a Canadian setting. In January 2015, he immigrated to Canada with his young family of three with the hopes of continuing his professional career in the GIS sector. After undergoing the settlement process, Harpreet started working a survival job in March 2015, at a local plastic parts production company. He joined the TRCA PAIE Program in the fall of 2015 with the hope of obtaining an employment opportunity in his field, and decided to quit his survival job to focus on full-time professional job search. While in the program, Harpreet received extensive job search training and interview coaching from PAIE staff, as well as valuable mentoring support and advice from subject experts in TRCA's internal GIS department. After months of hard work, Harpreet was the successful candidate in a rigorous 3-stage interview process with GIS industry leader – RMSI Canada. In May 2016, he was offered a full-time, 1 year contract position as a GIS Engineer. Harpreet is thriving in his new role, and continues to receive retention support from PAIE staff.
Participant feedback on their experience in the PAIE Program:
"Having a full time job, job seeking was a complicated process for me with so many different tools and approaches. I have worked very hard and tried so many tools for finding an appropriate opportunity in my field as an international trained professional. Participating in the PAIE Program was one of the most powerful tools. During the Job Search training, I learned a lot about key points for a successful job search and when I received a call for an interview with AECON Group, my PAIE Coordinator helped me a lot by providing me with a practice interview and giving valuable advice. Having participated in the professional workshops conducted by PAIE staff, I have found them to be very useful as well." - Nadia, PAIE Participant, 2014
"PAIE Programme covered all aspects of Training from Technical Training to Soft Skills Development and Resume Wrtting, to personal short comings such as spoken English for Canada. Also at each stage they helped my individual needs as to how and where to apply such as cold calling , conductiong informational interviews and prepared me for interviews." - Kashif, PAIE Participant, 2016
"PAIE Program is a unique program, compared with other bridging program that I previously took it is totally different. The key difference is that PAIE program is provided by TRCA, which is an authority operating in the environmental field. For this reason TRCA staff has a lot of connections and understands the skills you really need to work in the environmental field. Moreover having the references of a TRCA employee really helped me in the process of getting the job." - Tomaso, PAIE Participant, 2016
"Individual coaching sessions with my PAIE coordinator were the key program aspect of my participation. Continuous long-term support was very important in the job search process, especially all feedback on my resume, job searching techniques and interview training. Networking events and info interviews assisted me in building more confidence while talking about my achievements and my qualifications. That was really valuable during my real interviews." - Shima, PAIE Participant, 2016
" PAIE is the strongest program for internationally trained Environmental Engineers and Geoscientists. After I joined this program, I started a close collaboration with my coordinator and I believe she had a key role in my success through her full time help and support of my job search activites. She is so responsive and knowledgeable in her job and answered all of my questions and concerns in the shortest time possible. I also found the mock interviews she arranged for me extremely helpful as she covered almost all of my interview questions! It is very important for Environmental Professionals and Engineers to know about environmental regulations, policies, planning and approval process to improve their chance of getting hired in their field. The PAIE program job development and professional workshops are very useful and informative in terms of making the participants familiar with these processes and policies." - Aida, PAIE Participant, 2016
"I was fortunate to get an internship at TRCA- Project Management Office. The work I am doing now fits exactly my background and experience and this makes me feel that I have a very good chance to speed up my access to the local construction market. I reckon that most of the internationally trained professionals who are new in Canada need around one year of local experience to catch up with the local business environment. After that initial year, they can gain confidence to build on overseas experience and move forward. I think that getting a starting job is extremely difficult outside the bridging programs. And this is one of the reasons why I am advising my friends to join PAIE on the next term. As for my licensure, my current work with the PMO cannot be taken as engineering experience. However, the Senior Manager who I report to is looking for a chance to get me involved in an engineering project under the supervision of a licensed Engineer, so that I can satisfy the PEO requirements. He is a very kind person and I am really thankful for his care." - Ahmed, PAIE Participant, 2017
"I enjoyed the coaching component of the program very much. A professional Coordinator helped me to prepare my resume and portfolio. She also prepared me for the interview and advised me during the whole hiring process." - Ali, PAIE Participant, 2017
"Learning new things has always been a great motivator for me. The PAIE bridging program of TRCA has been a great contributor to my job search activities. The program have increased my chances of getting a job that is aligned in my field of specialization. Thanks to the untiring support of my coordinator and all members of the PAIE team in the bridging program, I was able to learn new things or new ways to look at the challenges that hindered immigrants in finding suitable jobs. PAIE provided all the information I need to further understand the Canadian culture and adjust myself accordingly. It is interesting to see that an organization such as the TRCA, helping new immigrants like me, assist in reconnecting to the industry. I would definitely recommend this bridging program to new immigrants..." - Jones, PAIE Participant, 2017
"Before joining the PAIE program, I had the basic idea of the Canadian labour market. However, this targeted program for environmental engineers helped me understand the market demand in my field. From providing the avenues to effectively search for jobs, preparing resumes and cover letters, professional networking and interview preparation to work place culture training, the PAIE program team and my co-ordinator, in particular, helped me a great deal." - Ibrahim, PAIE Participant, 2017
"The PAIE program was quite helpful as I had the opportunity of accessing their network with other professionals especially employers and hiring managers. They are experts at resume and cover letter writing and they offered helpful advice regarding interviews. Furthermore, by participating in the PAIE program, I had the opportunity of attending job search training sessions and becoming more familiar with the different methods of resume writing, cover letter writing and most importantly, networking." - Mohammadali, PAIE Participant, 2017